Silver Moon/Orbit Jet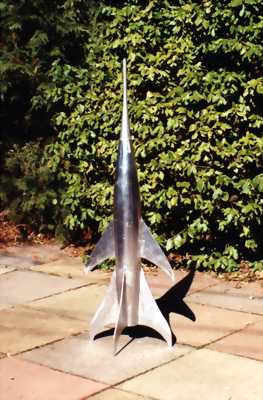 This was my favorite show when I was a kid. OK so the acting was a bit hokey but they had one of the best looking rockets, the Orbit Jet/ Silver Moon! It's graceful lines were unmatched by any others. There seems to be two slightly differing tail fins used. One had a seemingly concave leading edge the other a convex leading edge. The one I'll call the Orbit Jet the other the Silver Moon. Note; the graphics shown are labeled wrong.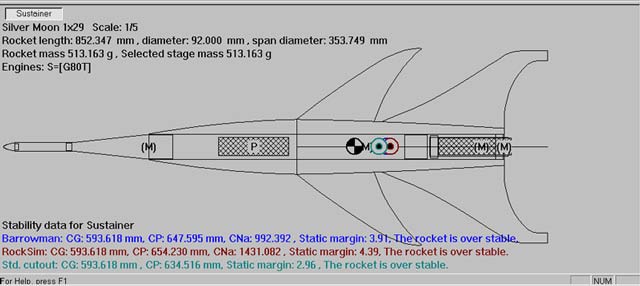 A molds for the Silver Moon has been built. Current work is in the area of mold release and quality to produce a consistent result.
The Silver Moon has been successfully flown on the C5-3 cluster to heights of 200 ft. D12-3s [not recommended] E15-4, F25-4, G40-4, H110 and H153 successfully.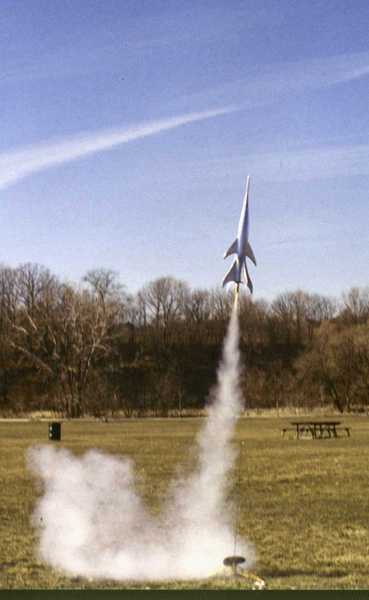 Specs:
Height: 39 inches dependent on model
Dia: 3.9 inches
Weight: ~ 400-500 grams [ without motor cartridge loaded ]
The results below are approximates only. Your results will vary dependent on finished weight, quality of finish, environmental conditions at the time of launch etc.
| | | |
| --- | --- | --- |
| Mount Type | Motor[s] | Altitude [approximate] |
| 3 18mm | 3xC5-3 [not available for this rocket] | 220' |
| 3 18mm | 3xC6-3 [not available for this rocket] | 190' |
| 1 24mm | E15-4 | 450' |
| 1 24mm | E30-4 | 500' |
| 1 29mm | F25-4 | 1000' |
| 1 29mm | F50-6 | 1000' |
| 1 29mm | G40-4 | 1500' |
| 1 29mm | G80-7 ....[not tested] | 1500' |
| 1 38mm | G60-7....[not tested] | 1800' |
| 1 38mm | H73J-10 ....[not tested] | 2000' |
| 1 38mm | H110-10....[needs special nose weight] | 3400' |
| 1 38mm | H153-10....[needs special nose weight] | 3200' |
| 1 38mm | H123W-10 ...[not tested] | 2700' |
[yes all these motors will fit in this rocket!]